Ukrainian forces are warily advancing towards the occupied city of Kherson, after Russia's defense minister publicly announced a retreat. Yet the prospect of messy urban warfare looms large.
A liberation of Kherson—the only provincial capital seized by Russian troops since the invasion began in February—will be a major blow to the Kremlin, which has failed for months to seize back momentum.
But the strategic importance of the city raises the prospect that Russian troops will not leave quietly. Ukraine President Volodymyr Zelensky said troops would proceed "very carefully," while presidential aide Mykhailo Podolyak said Kyiv saw "no signs" of Russian departure, and warned that Moscow's forces plan "to turn Kherson into a 'city of death.'"
An American volunteer helping Ukrainian resistance told Newsweek from close to the frontline that forces expect a wide range of Russian tricks as they move into Kherson.
"The Ukrainian military being extremely cautious about going in there, for very good reason," he said.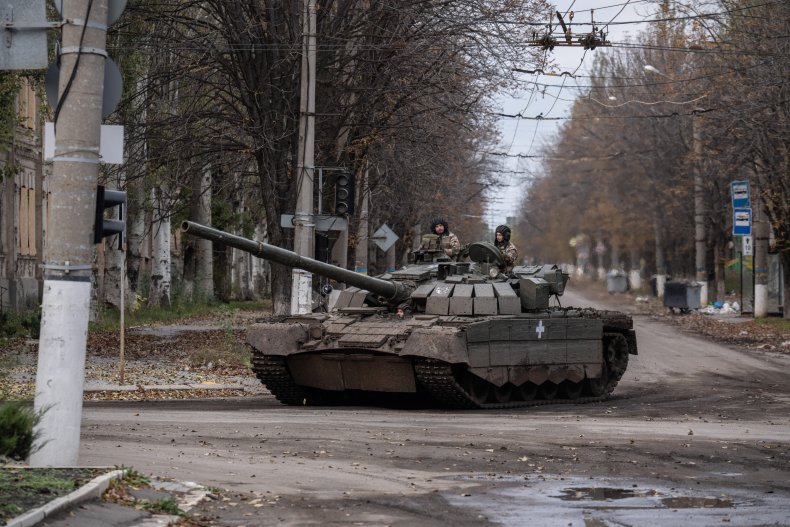 Erik—who did not wish to share his full name for security reasons—is a 26-year veteran of U.S. special forces now volunteering as a member of the Mozart Group, which has been training Ukrainian troops and engaging in humanitarian missions across the nation.
"I do think they're not just completely walking away from there," Erik said of Russian forces. "I do think they're going to have an element that's gone to ground," he added, referring to reports that Russian units are donning civilian clothes and preparing to engage liberating troops in a faux guerrilla campaign.
Small groups of Russian soldiers—or even empty buildings—pose a serious danger. "I'll tell you one thing they've definitely done, they've booby trapped that entire city," Erik said. "Every building is a danger for Ukrainian forces."
"The Russians are notorious for layered defense: there's the minefields, there's the booby traps, there are fall back positions with snipers," Erik said. "I still think there's a lot of danger down there...I think they're gonna make the Ukrainians pay."
The Kremlin might look to leverage urban warfare to bolster its propagandized historiography, said Mark Voyger, a former special adviser for Russian and Eurasian affairs to then-commander of U.S. Army Europe General Ben Hodges.
"They may decide to turn it into a Stalingrad of sorts," Voyger told Newsweek, referencing the Russian city where Nazi Germany came unstuck during World War II.
Moscow may try to "create this image of Russians fighting for the Russians and local Ukrainians, fighting against the 'Nazis' and NATO," added Voyger, now a non-resident senior fellow at Center for European Analysis and professor at American University of Kyiv.
'The Greatest Danger'
Clearing Kherson of Russian troops will shift the frontline to the wide Dnipro river, with Moscow's forces entrenched on the left side within artillery range of Kherson.
"They're still definitely within Russian artillery range," Erik said, warning that Russia's fires remain highly effective despite its military's poor overall performance. "It doesn't have to be smart munitions. It can be just regular indirect fires...They have plenty of stockpiles, even though a lot of ammunition is crap and the dud rate is extremely high."
Russian forces have shown scant regard to date for population centers. There is little reason to expect Kherson to be any different.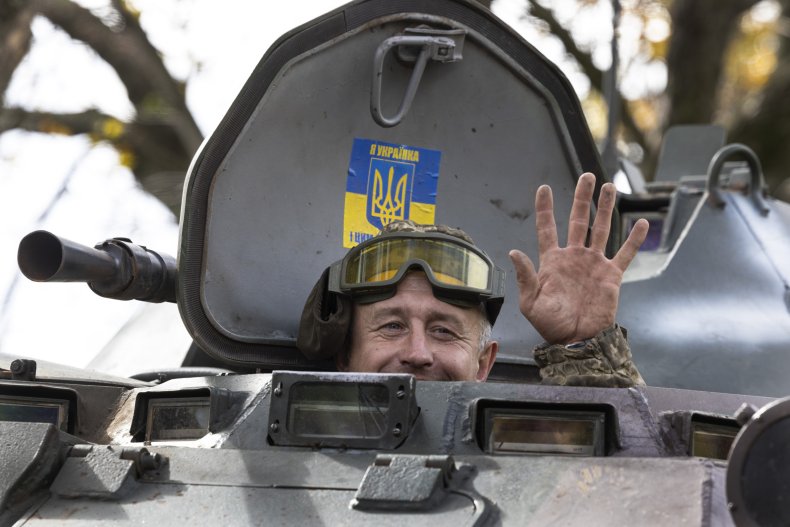 "That's the greatest danger; that the Russians will position the artillery on the left bank—rocket artillery or whatever they have—and they will pound the city," Voyager said. "They're going to use scorched earth tactics, just to try to obliterate the city as much as they can."
In such a scenario, Ukrainian artillery teams will likely respond, creating an artillery duel across the Dnipro as Kyiv's forces consider how to cross.
"Bridging or forced assault across the river is extremely difficult, very complicated," Erik said. "They're going to be ripe for Russian artillery fire. And then going back to that layered defense, once they get a bridgehead, it's just going to be ugly the whole way."
Satellite images show the Russians have already constructed fortifications along the left bank. "In some ways, it will be suicidal to go against those," Voyger said.
Escalation Risk
The fall of Kherson is yet another humiliation for Vladimir Putin. The dictator will be looking for ways to retaliate as Kyiv troops seize territory the Kremlin considers Russian.
Both sides have accused the other of preparing to destroy the Kakhovka hydroelectric dam, which would flood much of Kherson and the surrounding area. That would slow the Ukrainian advance, but would also inundate Russian defenses on the left bank.
Russia's nuclear threats loom over all the battlefields, though Western officials have stressed they are yet to see any evidence of the Kremlin preparing to play its most devastating card.
"I wouldn't rule it out 100 percent," Voyger said of the prospect of Putin making the "crazy" choice to use tactical nuclear weapons and irradiate the Kherson area. "I'm sure the Ukrainians have noted this, they must be cognizant of the threat."
Erik said the nuclear threat is now "higher than it was," adding: "The closer that the Ukrainian forces get to the true blue Russian border, the likelihood of tactical nukes increases...but again, I haven't seen anything to make me think he's going to use them anytime soon."